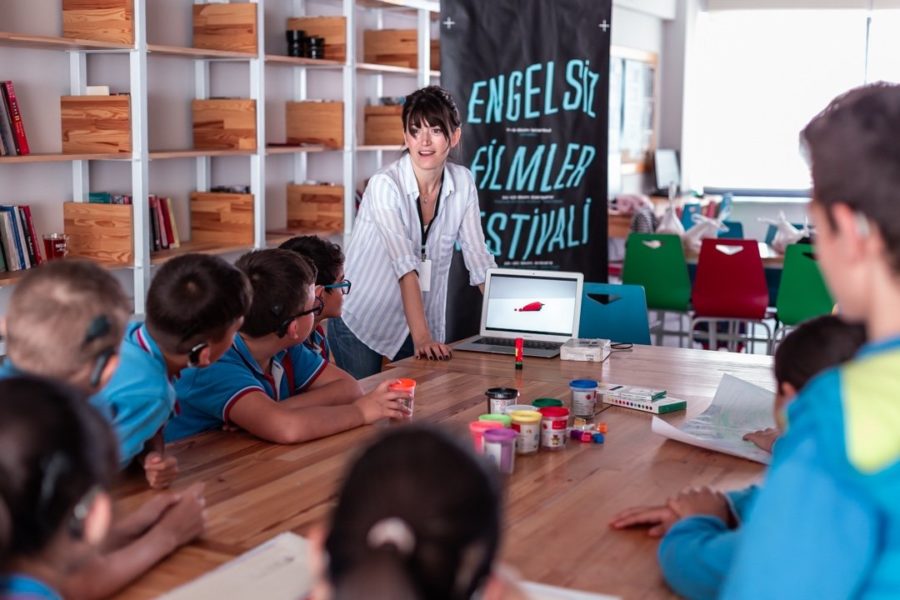 With the grant received from our Culture & Arts Fund, Puruli Arts and Culture Association (Puruli) employed one person who is responsible for contacting different civil society organisations working in Ankara and other cities in the field of disability rights and evaluate the results of the surveys on stakeholder expectations for culture and arts activities. Furthermore, Puruli plans to create an Accessible Film Festival Guideline that will identify the criteria for organising an accessible film festival. This guideline will be prepared in coordination with the other film festivals in Europe within the "Be-In Accessible Film Festival Network" of which Puruli is one of the founders. The guideline will be shared with a network of culture and art organisations to help make an increasing number of festivals accessible for disabled people.
Puruli used the grant to hire one employee to coordinate the following activities:
Updated the list of civil society organisations (CSOs) working in the field of disability rights. 352 CSOs operating in Turkey, mostly in Ankara, were scanned and their contact information were updated. In addition, the contact information for 76 new institutions such as municipal social service units, social facility/service centres for people with disabilities, city council assemblies for people with disabilities were created.
Prepared a questionnaire to learn about the approaches, needs, and expectations of people with disabilities in participating in cultural and artistic activities, with the help of an academic.
Conducted in-person meetings with CSOs in Ankara and the video calls with CSOs in other cities started in mid-February. In mid-March, 9 organisations operating in Ankara were interviewed in-person. However, due to the COVID-19 outbreak in mid-March, many CSOs stopped their activities and started to work from home. During the lockdown, 8 organisations were interviewed via telephone. The mentioned survey was shared in the meetings with organisations such as associations, federations, confederations, foundations and schools to be disseminated among their members to better understand their approaches, needs, and expectations from cultural and arts activities.
Prepared a guide on accessible film festivals. The criteria of accessible film festivals guide are planned to be prepared in consultation with other film festivals in Europe from Be-In Accessible Film Festivals Network of which Accessible Film Festival is among the founders. A meeting was set to be held in Brussels in late March with the Be-In Network members but the meeting was cancelled due to the COVID-19 outbreak. Instead, the meeting was held online at the end of May. The Be-In network met online for the second time with the same agenda at the end of June.
Below please find the interview with Puruli:
Puruli Culture and Art Association (Puruli) aims to make culture and arts accessible to everyone and to create alternative channels for the institutions and people who share a similar goal. Can you tell us about the association and the main activities that you carry out?
Puruli is completing its sixth year. The biggest event of the association is the Accessible Film Festival (Erişilebilir Film Festivali – EFF). The festival features recent movies, that the disabled audiences cannot see in the theatres, with audio description, sign language, and detailed subtitles for the visually and audibly impaired individuals in accessible venues for orthopedically disabled individuals. We organised EFF for the first time in 2013 with the idea that a cultural event should be realized in a way that everyone can participate together. It started in Ankara and in the first 4 years, the festival took place only in Ankara. The festival has been visiting Istanbul and Eskişehir for the last 3 years. From the first year, we started to establish relationships with other accessible film festivals from around the world. This relationship resulted in the establishment of the Be-In! Accessible Film Festival Network last year. As Puruli, we are among the founders of the Be-In Network among 5 other film festivals held in different countries across Europe and together we are working on accessibility in cinema and film festivals.
We see that individuals with disabilities in Turkey encounter many problems in terms of practicing their right to access culture and arts. What kind of solutions does the Accessible Film Festival offer in this regard? Can you tell us about the scope of the festival and what kind of opportunities it provides for people with disabilities?
As you said, equal participation in cultural life is a right, but this right is often considered insignificant. If we talk about cinema events; there are 400 movies, including 147 Turkish movies, came to theatres in 2019 and more than 100 events related to cinema such as film festivals and cinema days are organized every year.
The vast majority of these films and these events are not accessible to individuals with special needs. The Accessible Film Festival presents the recent movies or cult movies from the history of the cinema with audio description, sign language and detailed subtitle options. In all three cities (Ankara, Istanbul and Eskişehir), we organise special screening sessions that are arranged according to the needs of people with autism. All of these screening are organised in venues that are accessible for people with orthopedic disabilities and wheelchair. I would like to emphasize here one of the biggest challenges we encounter is to find a venue that is both accessible for people with disabilities and suitable for watching movies.
We include sign language and audio description not only for film screenings but also for post-film interviews, awards ceremony, and other cinema-related events. We have a show program and catalogue printed in the braille alphabet on the Festival stands. The Festival's website, newsletters, and festival promotions are also prepared in an accessible way. However, we still realize that there is more to be done to be more accessible and we are trying to overcome our shortcomings.
What kind of collaborations do you develop with civil society organisations (CSOs) working in the field of disability rights and culture and arts institutions within the scope of Accessible Film Festival? What can be done to diversify these collaborations and to help more people benefit from your work?
The Accessible Film Festival cooperates with CSOs working in the field of disability rights and culture and art institutions. These institutions come side by side through the panels and events organized within the scope of the festival. So far, the arts and culture institutions have taken the role of a host in the events we held together with CSOs working in the field of disability rights. We think that the interest and demand of people with disabilities in the field of culture and arts should increase. As we mentioned in the previous question, the right to access cultural life is not an issue that has been prioritized by the majority of disabled people. We believe that if the demand to participate in cultural activities increase on the side of disabled people, these collaborations will also increase and diversify.
Puruli

 

received a core grant within the scope of or

 

Culture and Arts Fund with the financial support of the Turkey Mozaik Foundation.

 

Can you tell us how you will use this grant to strengthen Puruli's organisational capacity?
We thank the Support Foundation for Civil Society and Turkey Mozaik Foundation for this grant. With the grant we received, we will employ one person who will work to strengthen our communication with CSOs working in the field of disability rights. Main responsibilities of this employee will be to update the contact information of CSOs working in the field of disability rights, gathering information about their participation in culture and art activities by meeting with their representatives and learning the needs. We also aim to increase the quality and effectiveness of the EFF festival by analysing the surveys we have been implementing for the past six years and to expand the use of these surveys. Finally, we are also planning to prepare a guide that responds to the question of what is an "accessible film festival" in cooperation with the Be-In! Network.
As part of our grant support, you are planning to prepare a guide on accessibility with other film festivals in Europe from Be-In Accessible Film Festivals Network. Do you think this guide can contribute to more festivals being accessible for people with disabilities?
We hope so, but we are also aware that this will take time and it requires a lot of effort. Under the EFF, we have prepared accessibility applications of 232 films and we have been working for the screening of these films in festivals in Turkey. We cooperated with many other festivals for additional screening of these films. But of course, a festival does not become accessible if there are only a few accessible sessions available in the program. The guide we will prepare will answer questions such as what an accessible film festival is, how to organise it and how the venue should be. Of course, this guide will be a road map for the Accessible Film Festival. In addition, we hope that other film festivals will increase their accessibilities and this will be used as a guide for culture and art organisations who want to make their events accessible.