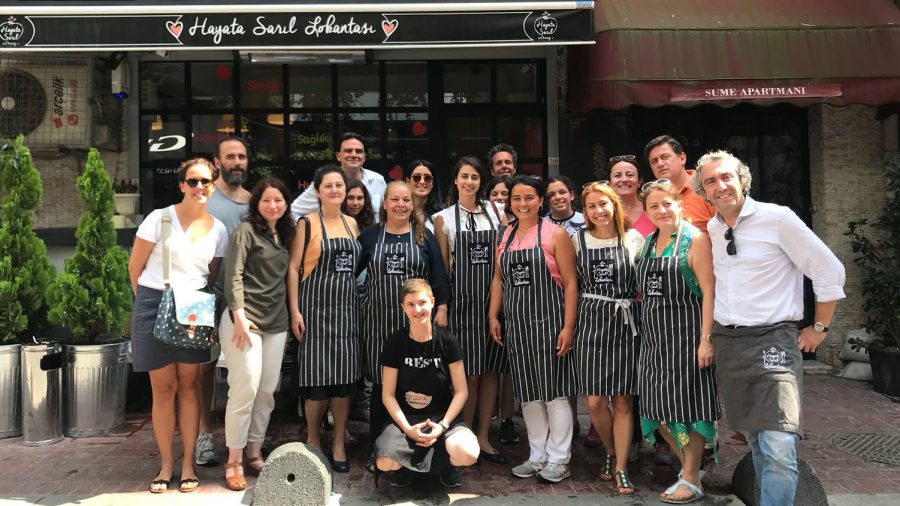 We had our study trip in Istanbul on 20/21 July 2018. On the first day of our study trip, we heard the inspirational stories of our grantees (KODA, BoMoVu and TOFD) and their commitment to make a difference. We started the day with KODA (Rural Schools Transformation Network) and learned about their different educational projects throughout Turkey. Nil Delahaye from BoMoVu (Network of Sport and Body Movement for Vulnerable Groups) described their projects on women empowerment, refugee engagement and community building. We were moved by TOFD's (The Spinal Cord Paralytics Association of Turkey) perseverance and impact on the lives of the disabled in Turkey. In the afternoon, we hosted Ulas Tol from Yasama Dair Vakfi. The valuable data and research compiled by the organisation shed light on the social and political events of recent years.
The second day of our study visit started with a very unique three hour "Memory Walk", a program devised by Karakutu, exploring and questioning the injustices against historically marginalised groups. We later had lunch at Hayata Saril Lokantasi and met with Ayse Tukrukcu, a phenomenal woman who put her heart and mind into making a positive change for the less privileged. Hayata Sarıl Lokantasi serves delicious food to its customers by day and offers free dinner service to the homeless and marginalised individuals in addition to providing employment and psychological support for them. Our day concluded with an intriguing debate with the editor of Recel Blog, Rumeysa Camdereli, an advocate for feminists.
We were extremely moved by the stories and projects we became part of through this study visit. Having met with these civil society experts and pioneers, our belief in our mission is once again confirmed. We would like to extend our heartfelt thank you to Sarp Batur and his team (Nople Productions) for documenting the precious memories of this journey and our partners in Turkey, Support Foundation for Civil Society, for organising this study trip and hosting us.