We were thrilled to be joined by our supporters, grantees and civil society experts during our 2022 Study trip, after a two-year break. For two days we, along with attending donors, listened to the inspirational stories of civil society experts and some of our current grantees working in the fields of poverty, climate crisis, youth politics and ageing studies, and had engaging discussions on the most pressing issues on Turkey's agenda.
DAY 1
On the first day, we were at Postane Istanbul, a historical building known as the British Post Office in Galata, Beyoğlu. The day started with an intriguing discussion on Turkey's political environment and future scenarios led by Ruşen Çakır, founder of Medyascope.tv and a pioneer of solution journalism in Turkey. 
The poverty in Turkey panel, moderated by Betül Selcen Özer, hosted Hacer Foggo, İlayda Eskitaşçıoğlu and Melda Akbaş.
Hacer Foggo – Journalist and human rights activist. Established the Deep Poverty Network with her friends during the pandemic and supported more than 3000 families in reaching their basic needs. Ashoka Fellow, one of the 10 women leaders from Turkey at the WOW Women of the World Festival in 2021, and recipient of the Uğur Mumcu Solidarity award in 2022.
İlayda Eskitaşçıoğlu – Human rights lawyer and a PhD student studying international human rights law. Co-founder of the We Need to Talk Association fighting against period poverty and menstruation stigma in Turkey. Member of the UN Women Generation Equality Youth Task Force and one of the 17 Young Leaders for Sustainable Development Goals selected by the United Nations.
Melda Akbaş – Child rights activist working on child participation, child safety, right to education, children and media, research with children and social-emotional learning. Programmes coordinator of Suna's Daughters, an educative initiative to empower girls, under the roof of Suna and İnan Kıraç Foundation.
Foggo talked about how the Change from Home (#EvdenDeğiştir) campaign was initiated during the pandemic to meet the basic needs of families living in deep poverty. Akbaş gave us an insight into the conditions of children living in poverty, while Eskitaşçıoğlu shed light on period poverty and menstruation stigma and drew attention to how period poverty hinders access to education, as children living in deep poverty who cannot reach menstrual products cannot go to school. Turkey's first research on period poverty, conducted by the We Need to Talk Association, can be viewed here. 
The panel on climate crisis, moderated by Ergem Şenyuva, hosted Ümit Şahin and Gaye Tuğrulöz.
Ümit Şahin – Senior scholar and the coordinator of Climate Change Studies at

Istanbul Policy Centre

 

. Together with Ömer Madra, Şahin has been the producer and host of the "Açık Yeşil" (Open Green) radio program on Açık Radio since 2008. Edits and writes on climate change and environmental issues for "Yeşil Gazete" (Green Newspaper). Teaches courses on Global Environmental Challenges, Climate Change and Environmental Politics at Sabanci University.
Gaye Tuğrulöz – Chairwoman of the Social Climate Association, founder of the Coastal Aegean Climate Network and local advocacy and policy coordinator. Executive board member of the Izmir Sustainable Urban Development Network, established to localise global goals and strengthen local cooperation.
Şahin pointed to the fact that according to the Intergovernmental Panel on Climate Change (IPCC) report, the impact of individual actions on reducing greenhouse gas emissions has been estimated at 40-70%, but only if governments make it possible and easy to do so by implementing the right policies. Tuğrulöz concluded on a positive note by emphasising that young climate advocates are working very hard to influence decision-makers through awareness raising and advocacy.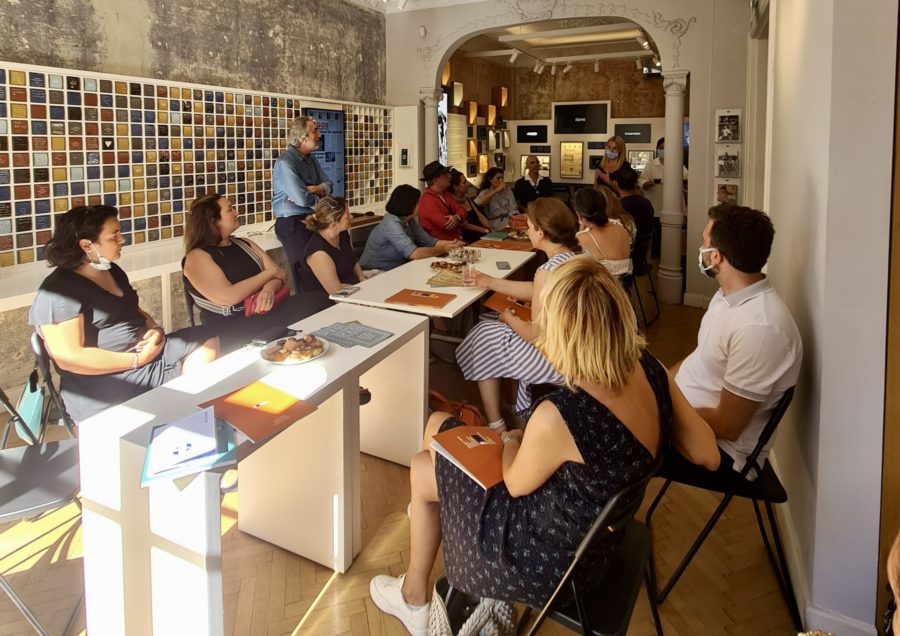 The day continued with a visit to the 23,5 Hrant Dink Site of Memory where we had the chance to get to know Hrant Dink's life, works, and thought more closely.
DAY 2
On the second day, we were at Müze Gazhane, a complex located in Kadıköy, that was renovated and transformed into a public space for arts and culture. The speakers of the Youth and Youth Politics in Turkey panel, moderated by Özlem Ezgin, were Demet Lüküslü, Hasan Oğuzhan Aytaç and İnanç Sümbüloğlu.
Demet Lüküslü – Head of the Department of Sociology at Yeditepe University. Teaches courses on the sociology of youth, social movements, political sociology and globalization. Research interests include youth studies, political sociology, sociology of everyday life, cultural studies and social movements. Author and editor of many books, articles, and research focusing on young people.
Hasan Oğuzhan Aytaç – Youth activist working in various civil society organisations in the field of youth rights. General coordinator of

Youth Organisation Forum

for four years. Represents Turkey as a co-representative at the European Youth Forum.
İnanç Sümbüloğlu – Founder and board member of the Bir İZ Association in the field of individual and community mental health. Founder and board member of the Play Therapy Association. Teaches community mental health and movement-body awareness courses as a guest lecturer at the Istanbul Faculty of Medicine.
In this panel, the speakers talked about the generation classifications, youth organisations, the psychological well-being of young people, and the fact that Turkey has the largest NEET (Not in Education, Employment, or Training) population consisting mostly of young women.
The last session of the day, Aging Studies in Turkey, hosted Özgür Arun.
Özgür Arun – Member of the editorial board of The Gerontologist, a leading journal in the literature on ageing, and one of the founders of

Senex Association for Aging Studies

. F

aculty member in the

Department of Gerontology and Assoc. Director of the Mediterranean Civilisation Research Institute at

Akdeniz University. R

ecipient of the 2017 "Rising Star" award by the Association for Gerontology in Higher Education.
Arun shared that the association's monitoring reports reveal a monthly average of 170 incidents of violence, discrimination, neglect, or rights violations committed against older people.
The day ended with a lunch with representatives from Dem Association, Basic Needs Association, Altyazı Cinema Association, and Social Policies, Gender Identity, and Sexual Orientation Studies Association (SPoD). 
We thank all speakers and participants for these two inspiring and deeply motivating days in Istanbul. And a special thank you to the Support Foundation for Civil Society team, our partner in Turkey, for organising this trip and hosting us. Looking forward to it together next year!