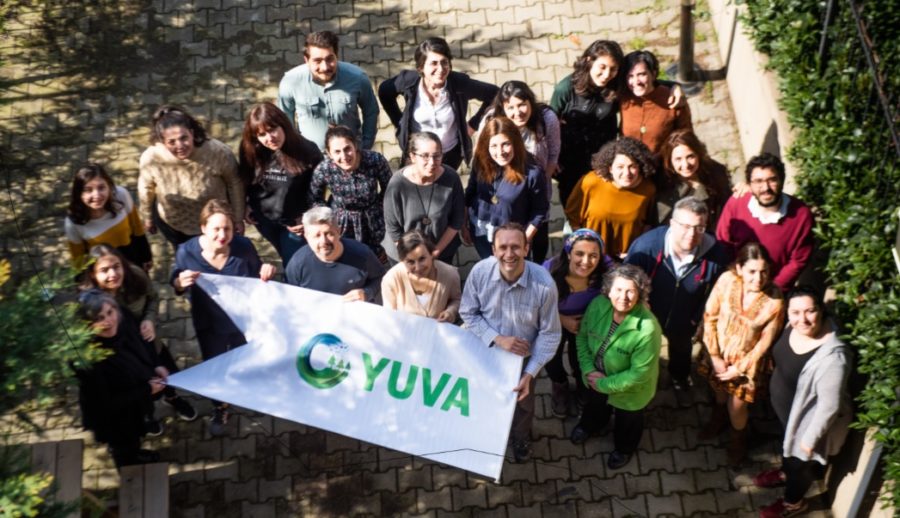 Our grantee Yuva Association has been implementing the Ecological Literacy Training Program since 2013 to increase the number of active citizens with an ecological perspective.  Young people and adult volunteers apply to the training provided by Yuva Assocation. Since 2013 the association reached approximately 3,000 people throughout Turkey.
With the Ecological Literacy Project, YUVA aims to train a new group of volunteer trainers so that they can disseminate the knowledge and implement new ecological literacy trainings in their own communities. With the grant given by Turkey Mozaik Foundation and Support Foundation for Civil Society, the Ecological Literacy Program reached 801 people. 551 of the participants were young people and adults and 251 were children ages (7-15) . The gender distribution of the 551 young people and adults were 68% female and 32% male.  The importance of empowering volunteers was seen again in this project.  Volunteers acted as a team throughout the project and their sense of ownership contributed to their awareness.  In addition, the importance of diversification of activities was considered when implementing the Ecological Literacy Program.
Testimonials from some of the participants in the Ecological Literacy Project:
Yunus, September 2019 Ecological Literacy Training for Trainers participant and Learning Centre Volunteer Trainer:
"As a volunteer trainer, I contributed to the ecological literacy training program in 2019 at the Yuva Association, where I have been a volunteer since 2018. I have had many beautiful memories in the past year, and thanks to this project, I listened to wonderful stories from the people I met. I would like to thank all of our friends who have contributed to this project: for the volunteers who attended the training, for the awareness I have gained after the training, for the birds that breathe cleaner air and for the green habits that have been adopted.  Apart from the fancy sentences, I must state clearly that it will make me happy to see many people as a volunteer trainer. Because when it comes to ecology, we all have a lot to learn from each other. Thank you for your efforts."
Hande, September 2019 Ecological Literacy Training for Trainers participant and Learning Centre Volunteer Trainer:
"For the first time in human history, human life style is so fast, complex, unstable, unhealthy, disconnected from self-awareness and basic spiritual values, away from the balance of nature and life, focused on taking and consuming, short-term and superficial. For me, being an ecological literacy trainer means being a volunteer and acting in solidarity with other actors in the association to create awareness and take action in order to change this unsustainable life style and all the creatures on it. With love, respect and gratitude to life and every form of life…"

Interview with Yuva Association
Yuva Association (YUVA) has a holistic approach that addresses different issues together for a sustainable life. The association works for creating environmental awareness, poverty alleviation and lifelong learning, human rights and democratisation. Could you briefly tell us about the aim and activities of the Yuva Association?
We established YUVA in 2010 to change the world, make it a better, fairer and more sustainable place and keep it as a home for all living things. We have been working on development and adult education with the same passion for the past 9 years. Today, we carry out trainings on environmental and human rights issues and provide vocational education, language education and access to employment for adults. We are a nationwide civil society organisation in Turkey and each year over 20.000 people benefits from our activities.
In recent years Yuva Association has been working with refugees on social cohesion projects. Based on your experience from the field, can you share your views with us on the current situation of refugees in Turkey, Turkey's refugee policies  and the needed improvements in terms of policies?
Our working model at YUVA is to provide services for both refugees and disadvantaged local communities together, by opening community centres or cooperating with local municipalities. Thereby we contribute to the social cohesion. The main reason we adopt this approach is not to  ignore the existing needs of the local population in the disadvantaged areas and to avoid a possible conflict between the two communities. Today, the situation in Turkey is so severe, it cannot be compared with past immigration experiences. We think that the policies regarding immigration should be holistic and inclusive in terms of access to rights and services, and we try to contribute to the policies in this direction with the models we developed and implement.
Yuva Association implemnted the Ecological Literacy project with the grant provided by the Support Foundation for Civil Society's Project Fund with the financial contribution of Turkey Mozaik Foundation. What is Ecological Literacy, why do we need such a project and what were the main activities in this project?
With this grant, we opened our doors to anyone who wants to take action in order to understand and protect the nature. In Ecological Literacy Training, we talked about how our planet survives, the threats it faces, the responsibility of the human species on responding to these threats, and our actions during the 2 day trainings. We can call those who decide to continue their lives with this awareness,  "an Ecological Literate". We want everyone to have this awareness to help decrease impacts of their actions on our planet and live responsibly. In addition to this 2-day program, we visited natural sites in Istanbul and learned about different species in order to remember and strengthen our connection with nature. After these visits, we became more aware of the nature that surrounds us. We started to recognising the tree that we walked by every morning or the storks passing over us. We organised thematic meetings in our Learning Centre in Kadıköy, and together we talked about biodiversity, climate change and renewable energy.
The need for this project stemmed from the threats facing the world today and the absence of an alternative planet (at least for now). We need to make sustainable living possible by remembering our relationship with nature,  keeping it alive, consuming only what we need, preferring local producers, demanding clean energy and exploring ways to be involved in decision-making mechanisms for a sustainable life.
The ecological movement and environmental awareness are gaining momentum with the increasing visibility of climate change consequences. Do such movements, especially led by young people, succeed in attracting the attention of companies and governments? Do you think the necessary steps in Turkey are being taken in this regard?
As YUVA, we see companies are now incorporating measures with regard to tackling climate change to their strategic planning. The increasing demand for our "Sustainability and Climate Change" seminar last year and the number of companies contacting YUVA, for becoming a "Green Office" indicates this growing trend. Moreover, these companies range from  fossil fuel companies to production companies working with plastic or paper as raw materials.
The most recent and concrete examples taken towards combating climate change in Turkey is the joint proposal of all political parties on the withdrawal of Mining Law Article that allow coal-fired power plants to release gas disposal without making the environmental investments such as filters and flue gas purification systems for six years (Mining Law Article 45: Decision to postpone environmental investments such as coal flue gas treatment plant and ash dam another two years). The coal-fired power plants, which cause air pollution and endanger the health of living creatures, will not be able to release their toxic gases into the air with this new decision.
The movement for ecological rights interest the whole society and it receives significant support. Given the magnitude and urgency of the threat posed by climate change, do you think these issues take enough place on the agenda of civil society organisations? Are there any steps that can be taken in this regard?
We see the contribution of the movement that started with Greta Thunberg in a substantial way both globally and in Turkey. The ecological movement is embraced by different groups and the climate change became an intersectional issue on the agendas of various organisations working in different fields. Every new step taken to inform and mobilize the society is very valuable for our planet. For this reason, we can never say "this is enough" in environmental movement. It contributes to the common good for all of us, all living things.