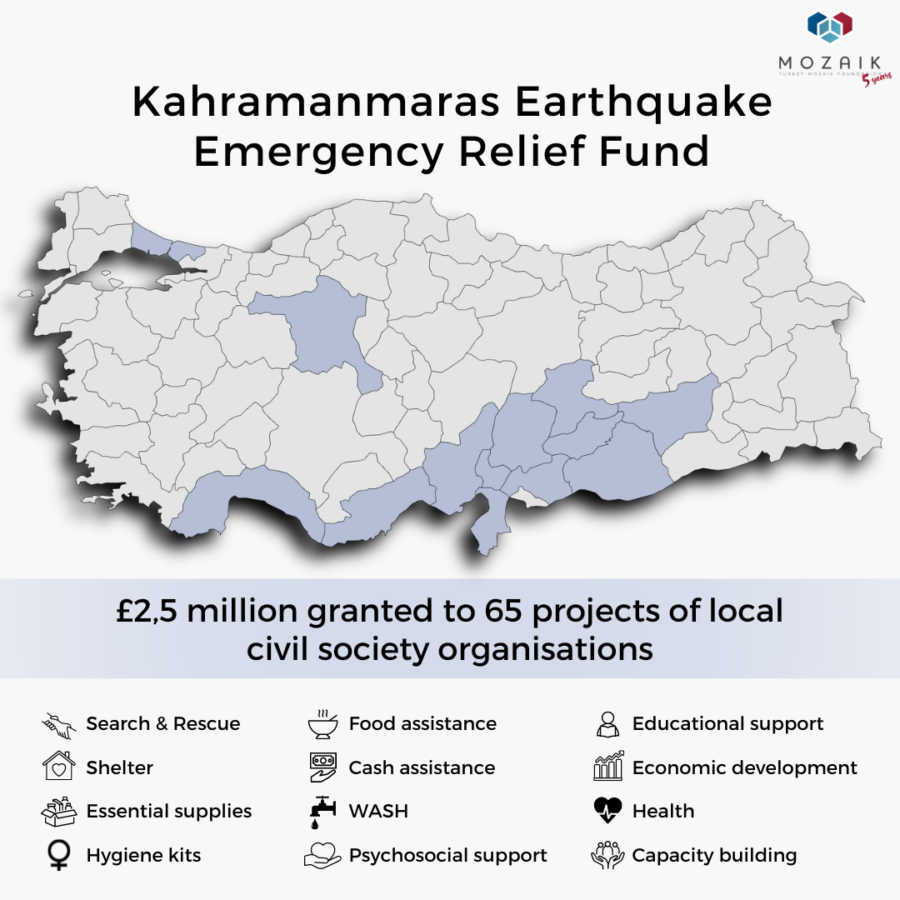 Four months ago, Türkiye was struck by devastating earthquakes that caused widespread damage and loss of life, leaving numerous individuals without homes. In the aftermath of the disaster, Turkey Mozaik Foundation immediately launched a relief effort to help those affected.
Thanks to the generosity of our supporters, we provided £2.5 million in grants to 65 projects of local civil society organisations working to support affected areas and survivors. We are grateful for the outpouring of support from our community of friends and donors.
The grants we provided covered a wide range of essential areas including:
Search & Rescue: We offered urgent support to organisations on the ground involved in search and rescue operations.
Shelter: Our grants contributed to meeting the temporary housing needs of individuals who lost their homes.
Emergency supplies: We provided emergency relief by supporting organisations that distributed kits to meet the immediate needs of the individuals who have lost everything.
Hygiene kits: Women and girls were provided with menstrual hygiene products, underwear, and other essential supplies, ensuring they could manage their periods safely and with dignity.
Food assistance: We provided support to organisations delivering hot meals & food packages, and to soup kitchens and food banks, guaranteeing survivors' access to safe and nutritious food.
Cash assistance: Shopping cards were distributed to enable survivors to determine and meet their own needs at any time.
WASH (water, sanitation, and hygiene): We provided clean water, mobile toilets, laundry and shower facilities, and distributed personal hygiene supplies, effectively preventing the spread of diseases.
Psychosocial support: Our grants included the provision of psychological first aid, individual and group counselling, and art and play therapies for children and adults who have been traumatised by the earthquakes.
Educational support: We offered school supplies, musical instruments to students and instructors of music departments, and supported organisations providing training, mentoring and support to teachers where education was disrupted after the earthquakes.
Economic development: We provided support to help individuals rebuild their livelihoods in the affected regions.
Health: Our grants enabled the provision of medical supplies and ensured survivors' access to healthcare services.
Capacity building: We provided support to organisations conducting trainings for local organisations and communities to better respond to future disasters by increasing resilience.
We are proud to have played a role in rebuilding lives and communities in Türkiye. Our work continues as we strive to support long-term recovery efforts and address ongoing needs in various areas.
How You Can Help
We invite you to join us by donating to our Kahramanmaras Earthquake Emergency Relief Campaign. Your contribution will make a tangible difference in the lives of those who need it most, enabling us to sustain our vital work. Thank you for your unwavering support.
For more information about the organisations and projects we supported, please visit our fund's page.