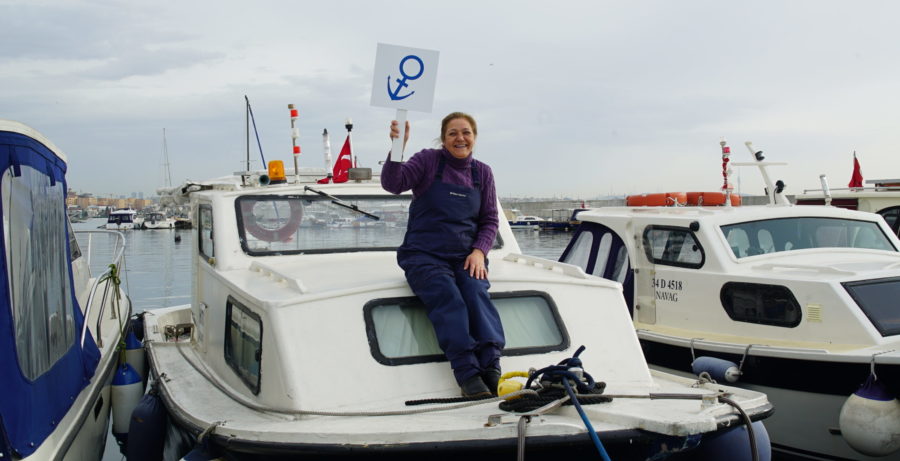 Women in Fisheries Society (Kadın Balıkçılar Derneği) received a grant from our Environmental Sustainability Fund to strengthen its organisational capacity and ensure the digital transformation of its activities. The association worked on issues such as digital security, communication, fundraising, data and resource management; established an economic enterprise, the e-commerce website mavipazaryeri.com, and new donation e-cards to raise funds.
Read below our interview:
According to the 2021 data of the General Fisheries Commission for the Mediterranean (GFCM), the annual economic value of Mediterranean fisheries is USD 8.8 billion. What measures should be taken to protect the underwater ecosystem and ensure sustainable fisheries in such a large sector?
Sustainable seas and fisheries are facing serious challenges, both locally and globally. We need measures, policies, and practices to ensure both the sustainability of marine resources and the fisheries sector and to maintain sustainability for the health of the seas. The main problems in Turkey are:
1) Combating the Decline of Marine Resources and Diversity
Pollution

: Uncontrolled population growth in coastal settlements, uncontrolled environmental planning and waste management cause an increase in domestic and industrial pollution and threaten marine resources.

Global Warming/Climate Change

: The greenhouse effect causes the average temperatures measured on land, sea, and air to increase. Climate changes have a serious negative impact on the seas and marine organisms.

Disruption of Ecological Balance

: Environmental pollution, global warming, and improper hunting cause the deterioration of the natural conditions necessary for all living things to survive. As a result, life in the seas decreases and even ends regionally.

Increase in Invasive Fish Species: 

The existence of some invasive species, which reach the sea and inland waters and negatively affect the food resources and habitats of other species, is an important problem in Turkey in recent years.
2) Combating Illegal, Unreported, and Unregulated (IUU) Fishing
Illegal Fishing

: Illegal fishing (non-compliance with the place, time and species bans, illegal trawling and/or fishing of non-target species, ghost fishing and destruction of the bottom of the seas, etc.) continues to be a problem in the fisheries sector. The increase in IUU fishing damages our seas, exposes hardworking and taxpaying fishers to unfair competition, and threatens their professional sustainability.

Overfishing and Fish Waste

: According to the 

Food and Agriculture Organization of the United Nations

 (FAO), between 2010 and 2014, annual discards from global marine fisheries accounted for 10,8% of the total catch. According to studies conducted in Turkey and the surrounding seas, these losses occur between 6% and 45%.

Overgrowth of Industrial Fisheries

: The overcapacity of industrial fishing fleets not only puts enormous pressure on the natural resources of our seas but also challenges the professional and financial sustainability of traditional small-scale fishers. Small-scale fishing accounts for about 90% of the fisheries in Turkey. However, only 10% of the fish caught are caught by small-scale fishers. As a result, small-scale fishers are socioeconomically becoming weaker. 

Unlawful Selling of Fish by Amateur Fishers

: Amateur fishers are thought to exert significant pressure on commercial fishing, even though the amount they catch is not included in official figures.

Illegal Spearfishing: 

Spearfishing on the coastline damages fish nests, it is carried out at night with tubes, and focusing on certain fish due to their high economic value can cause negative ecosystemic consequences that can collapse demersal fish stocks in a region in a few days.
3) Inadequate Social, Cultural and Competitive Conditions
Fish Consumption Habits

: 31.7% of the caught fish are consumed fresh and the remaining 59.3% are processed. However, 86.2% of the fish produced in Turkey is consumed fresh. The amount of processed fish (frozen, dried, salted, canned and smoked, etc.) is only around 13.8%. The fact that fish consumption in Turkey is based on seasonal fresh fish prevents the efficient consumption of the caught fish and causes seasonality and price fluctuations.

Lack of a Processed Fish Culture

: Due to insufficient technology and investments, there are problems in fish processing and preservation methods. For instance, unsold fish are thrown away and wasted. So, it is important to expand the range of processed products and conduct research and development studies on marketing.

Gender Discrimination

: Women form the basis of family fisheries in Turkey. However, since fishing is considered a male profession, women in this sector are socially and economically weakened. Women's decisions are not reflected in policies due to gender discrimination. Ending this inequality and protecting women's rights will contribute significantly both to women in Turkey and the national economy.

Socioeconomic Decline of Small-Scale Fisheries

: For all these reasons, the depleting fish stocks and the unfair competition conditions in the sector seriously damage the productivity, efficiency, income and sustainability of traditional small-scale fishers and small artisans who earn their living from this sector.

Lack of Education

: Marine resources that are used and consumed ignorantly, and seas that are worn out and polluted negatively affect people's lives globally. For this reason, to maintain the biological balance and diversity of the seas, it is necessary to raise awareness through individual and institutional trainings on fair and sustainable fishing and consumption.
4) Inadequacy of State and Organisational Support
Inadequacies in Measures, Inspection and Legislation:

 It is necessary to increase the measures and supervision concerning the problems mentioned above, and amend the legislation in the relevant areas.

Insufficient Organisation

: It is necessary for all people working in the fishing sector to be organised and work in an organised manner to solve the problems mentioned above, determine and take the relevant measures for the protection of the seas and marine life, and raise awareness.
What is the difference between blue growth and blue economy? Can you tell us about their importance and the work carried out for their implementation?
In short, blue growth is a strategy and a goal, while the blue economy is a concept and a tool that enables the realisation of this goal. The United Nations Sustainable Development Goals, the European Union Zero Emission Strategy (Clean Energy) and economic goals focus on the increasing destruction of the seas and the establishment of a balance between development and nature. Today, declining fish stocks, still acidic oceans, rising sea levels and increasingly toxic seafood are also economic problems. Especially those who depend on the marine sectors are getting poorer. For this reason, international institutions such as the FAO and the World Bank are now taking the blue economy more seriously.  
In September 2012, the European Commission published a press release on Sustainable Growth for the Marine and Maritime Sectors, laying out the blue growth strategy: Blue Growth is a long-term strategy to support sustainable growth in the maritime and shipping sectors as a whole. The blue economy represents roughly 5.4 million jobs and generates a gross added value of around €500 billion per year in the European region alone. The blue growth strategy sets targets to grow the marine economy for a sustainable future in which food and energy security is ensured for every country, and sustainable jobs are available for those who want to work at sea. In addition, blue growth covers not only the fishing sector but also marine transport, coastal tourism, ocean energy, and marine research.
As the Women in Fisheries Society, we are working to promote these concepts and policies in our country. In addition to our Blue Jobs Digital Transformation project, we can briefly summarise our work to date in this context as follows;
Empowerment and awareness-raising activities to support small-scale fishers to address their problems,  

Advocacy for gender equality policies in the fisheries sector, which are essential for blue growth,

With our first project 

Blue Planet Blue Jobs

, we tried to raise awareness about how to reduce fish waste through processing and canning the discarded fish.
In addition, in Turkey, Pesca-tourism (enabling small-scale fishers to earn income from the sea outside the fishing season), marine energy investments supported by the FAO, and marine technology projects of the İzmir Development Agency are blue economy activities that we follow. 
The blue growth strategy sets targets to grow the marine economy for a sustainable future in which food and energy security is ensured for every country.
Which areas did you focus on to strengthen the digital transformation of your association with the grant and capacity-building support you received from our foundation? Can you tell us about your work in this context?
With this project, we worked to increase our organisational efficiency and sustainability. In this context, we established an economic enterprise, started using a digital tool for collecting donations and receiving payments, and with the e-commerce platform we established, we increased our resources digitally. We identified our software needs and started using new tools for project and task management, data management and archiving, efficient communication within the association and with stakeholders, fundraising, and ensuring digital security. We organised digital literacy training in cooperation with the Habitat Association, for women fishers to improve their digital skills.
How has the support you received from the Environmental Sustainability Fund contributed to your association and your work? Do you have a message for our donors who support the fund? 
As a newly established association working to ensure the sustainability of the seas and empower women working in the marine sectors, despite the pandemic, we have managed to improve our financial sustainability and our capacity to use digital tools. Thanks to these tools, we have accelerated our activities and created the infrastructure for safer and more efficient work. Finally, the workshops, trainings, and mentoring support we received with the capacity development support facilitated and accelerated our capacity development process. 
What are the areas and activities that you will prioritise this year?
We aim to keep up with the digital age and transform our project into a programme. Within the scope of this programme, our short- and medium-term goals are as follows:
Expanding our e-commerce platform in terms of marketplaces, producers, and products,

Organising digital trainings, workshops, seminars, meetings, and events,

Using our donation collecting system more actively and organising donation campaigns,

Increasing the number of our digital publications,

Keeping our website up to date and creating an e-library for the blue economy, blue growth and blue sustainability.
About Women in Fisheries Society
Women in Fisheries Society works to maintain the ecological balance in marine ecosystems, to benefit from marine ecosystems in a healthy and effective manner and to socially, economically and professionally empower women in the industry.