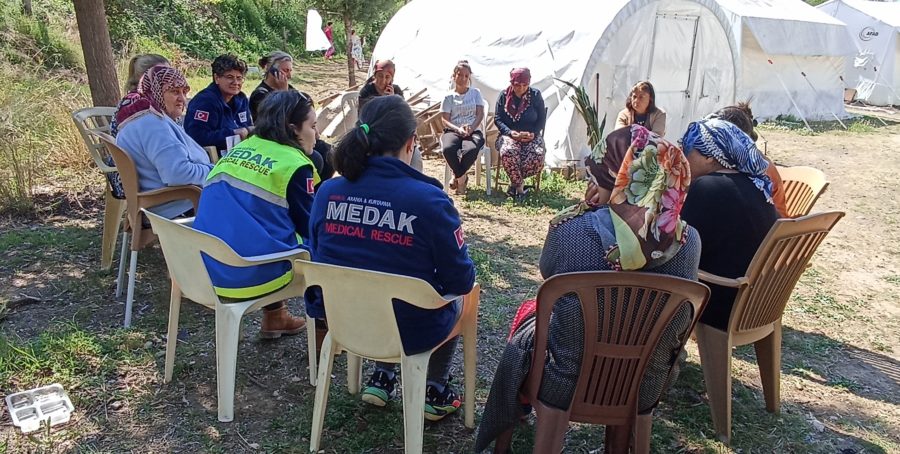 Medical Search and Rescue Association (Medikal Arama Kurtarma Derneği– MEDAK) supports medical personnel in providing active field services in disasters and humanitarian crises and equips them with the necessary training for emergencies. MEDAK is receiving grant and capacity-development support from our Institutional Fund, launched in collaboration with the Support Foundation for Civil Society (Sivil Toplum için Destek Vakfı). With this grant support, MEDAK will work on increasing the diversity of its resources and ensuring its financial sustainability.
Read below our interview:
The Medical Search and Rescue Association (MEDAK) is receiving a grant from our Foundation for the first time under our Institutional Fund. To provide our readers with a closer understanding of your organisation, can you please elaborate on your mission and activities?
MEDAK's primary objective is to ensure the coordination required for trained and organised medical personnel to provide active field services in incidents such as earthquakes, fires, floods, major accidents, civil uprisings, and disappearances and accidents in mountain and wilderness conditions. We provide these personnel with the necessary coordination to sustain their lives and carry out life-saving tasks in critical situations, while also offering them the required training.
Thanks to a diverse range of members, including doctors, mountain climbers, emergency medical response teams, surgical technicians, surgical nurses, emergency nurses, clinical psychologists, ambulance crews, veterinarians, first aid trainers and trainer trainers, amateur radio operators, firefighters, and field-experienced medical students, MEDAK boasts substantial experience and adheres to international standards. We leverage these international standards and member experiences for the training we conduct for disaster preparedness and response. The national and international organisations involving trainers, members, and volunteers are listed below:
Tailoring our activities to local conditions, needs, and cultural and economic requirements, we conduct training initiatives. Our work involves providing field health services during disasters and emergencies, along with assisting vulnerable groups' (refugee women, seasonal agricultural workers, and children)access to healthcare services during non-urgent situations. Projects involving vulnerable groups are meticulously designed by healthcare professionals, ensuring the best practices are presented.
Strengthening women's access to healthcare will reduce societal vulnerabilities and risks.
Given the refugee population, refugee women face gradual vulnerability. Often living at home with limited social interactions, these women lack sufficient information about their health risks and those of their family members. Misunderstanding the healthcare system, a lack of information on tracking health check-ups, absence of health records, and potential discrimination lead refugee women to distance themselves from the healthcare system.
Strengthening women's access to healthcare will reduce societal vulnerabilities and risks. Therefore, reaching more women will provide them with access to health literacy, accurate information, empowerment for women who are at risk due to their inability to engage in social activities, and strengthen their knowledge in terms of health risks.
In the past five years, MEDAK has been active in the following areas:
The projected estimate is that 250 million people will be refugees by 2050. The risks associated with this scenario are economic, cultural, and social.
Can you tell us about the purpose of HERA Digital Health app and the activities conducted within this framework?
HERA, as a mobile health (mHealth) platform, is an open-source solution aimed at enhancing preventative health services for pregnant women and administering vaccinations to children under two years old. Through a mobile application, HERA enables users to receive appointment reminders for healthcare services, access health information, store central medical records, communicate with emergency services, and navigate the host country's healthcare system in multiple languages. The application is currently available in Arabic, Turkish, English, and Dari.
The HERA Digital Health App empowers displaced communities to carry their health histories with them, ensuring rapid and hassle-free access to healthcare services, regardless of their location. We conduct education and awareness initiatives to promote the application's usage. Leveraging our experienced MEDAK team in disaster response, we made the HERA application available to the region immediately after the Kahramanmaras earthquakes, identified active healthcare centres, and published them on the HERA application. We also introduced a translation feature, aiming to eliminate language barriers for different communities in need of international organisations' services.
Can you tell us about your activities as one of the civil society organisations active in the field after the Kahramanmaras earthquakes on February 6th? What are your insights on the coordination of post-earthquake interventions and the impact of efforts to provide healthcare access to vulnerable groups?
Situation assessment: From February 17th to March 31st, MEDAK carried out a rapid field assessment to contribute to the elimination of disruptions in the healthcare system in Adana, Adiyaman, Gaziantep, Hatay, Kahramanmaras, Malatya, Mersin, and Osmaniye provinces; to determine medium and long term needs and to create an action plan based on the needs assessment. As a result, we published the Sexual and Reproductive Health Assessment Report in Earthquake Affected Provinces . You can access the English version of the report here.
MEDAK/HERA Operations Centre: In the third week of the earthquakes, we established a container operations centre in the Gurselpasa area allocated by Seyhan Municipality and are conducting our activities in the region from here.
afetsaglikharitasi.org: As of February 7th, MEDAK and HERA technical teams began publishing the Disaster Health Map on afetsaglikharitasi.org. This map provides the current statuses of healthcare service providers, the locations of the nearest healthcare units, and services provided by field hospitals, all with real-time updates, accessible to the public in the earthquake area. To promote the map, dissemination activities were carried out through digital channels like Facebook and Instagram, both nationally and within disaster-stricken areas. In addition, outreach activities were carried out through site visits, involving institutional discussions at provincial and district levels. Approximately 40 volunteers contributed to the map's development, setting the groundwork for data collection, processing, and verification. The map also offers services in the native languages of the users in the disaster area through its translation feature.
WhatsApp Chatbot Supported Disaster Map: The website helpbot.heradigitalhealth.org offers a map where humanitarian aid services provided by civil society organisations (CSOs) in disaster areas are swiftly categorised into 18 different types of services via a WhatsApp chatbot. The WhatsApp chatbot feature enables easy and rapid addition of all desired service centres/points in the disaster area and the map is available for everyone. It takes less than a minute to add more than 18 centres/points to the map, and the categories can be customised. The service centres/points entered on the map are automatically removed when their service period ends.
WhatsApp Chatbot-Supported Map for CSO Internal Coordination: Through https://ngo.heradigitalhealth.org/login, MEDAK and HERA developed a platform that utilises a WhatsApp chatbot to facilitate inter-organisational communication and coordination for CSOs involved in disaster areas. The platform allows CSOs to swiftly add locations to the disaster health map in 18 different categories, providing efficient resource utilisation and real-time coordination among CSOs through a single map based on coordinates. Field teams can add their real-time statuses to the map through a WhatsApp chatbot, managed by a comprehensive system administrator panel. This panel, designed exclusively for CSOs, is both manageable and customisable, allowing for efficient batch operations and reporting. Additionally, resources can be added quickly through the WhatsApp chatbot feature.
HERA Digital Health Mobile App: The HERA Digital Health Mobile App, accessible to the earthquake-affected population, integrates updates from the Disaster Health Map in real-time. Furthermore, before using the HERA app, women are provided with information on recommended care and risky conditions during and after pregnancy, the significance of childhood vaccination, and potential consequences of improper vaccination. During visits to Hatay Centre, Antakya, Altınozu and Samandag districts, family and migrant health centre staff were introduced to the application and were provided with training on how to use it. Detailed information about the HERA app is available on the website heradigitalhealth.org.
Distribution of Women's Hygiene Kits and Wider Adoption of the HERA Digital Health Mobile App in the Earthquake Area: Women's hygiene kits prepared under the Minimum Initial Service Package(MISP) for Sexual and Reproductive Health (SRH) in Disasters are regularly distributed by MEDAK field team to women living in rural areas in the earthquake zone. Simultaneously, the HERA Digital HealthMobile App is being promoted.
Failure to integrate refugees into healthcare systems negatively impacts public health and jeopardises the continuity of existing healthcare services.
As revealed by our field assessment report, services related to sexual and reproductive health were disrupted in the region due to the earthquakes. The majority of hospitals were damaged and unusable, and the temporary health service points set up were designed to respond to acute health needs. This led to disruptions in the follow-up of pregnant women and limited preventive-protective health services for infants. The demand for field/mobile health facilities and the necessary medical equipment for sexual and reproductive health services increased.
Additionally, access to contraceptives and preventive materials for sexually transmitted infections was found to be extremely difficult in the region. During the first 30 days after the earthquakes, there was a lack of sufficient equipment. Subsequently, services were provided with limited equipment. The need for field/mobile health facilities and necessary medical equipment for sexual and reproductive health services was acknowledged by health authorities and the United Nations Population Fund (UNFPA).
Many CSOs are active in the region, yet the lack of coordination and communication between these organisations leads to duplicated efforts and waste of resources. While some affected individuals are benefiting from services, others still struggle to access them, indicating a serious coordination issue. The magnitude of the earthquakes and the depth of the damage make the special needs of vulnerable groups invisible.
For instance, there are limited services available for LGBTQ+s and refugee women, resulting in severe health consequences related to physical and sexual violence. Notably, no institution in the region, including public institutions, provides protective and preventive health supplies following instances of sexual violence.
Unfortunately, the decreasing attendance at the weekly health sector meetings organised by the United Nations Office for the Coordination of Humanitarian Affairs (UNOCHA) indicates that health-focused CSOs are beginning to withdraw from the region due to capacity and resource limitations. The lack of transparency from AFAD and state institutions in the health sector leads to the absence of oversight for health interventions in tent and container cities. To enhance the impact of CSOs working in the region, they need support.
The magnitude of the earthquakes and the depth of the damagemake the special needs of vulnerable groups invisible.
MEDAK carries out medical infrastructure-based search and rescue operations with the support of volunteers. Can you share about the volunteering process at MEDAK and the contributions of volunteers to your work?
Since its inception, MEDAK's primary goal has been to provide healthcare services during disasters and humanitarian crises. We achieve this through search and rescue and medical rescue activities. Our volunteers, primarily composed of individuals with healthcare experience, undergo specific training to be able to serve in the field. Therefore, our main objective is to instruct individuals with healthcare knowledge on how to act and operate during a disaster.
In the recent earthquakes and previous disasters, our previously trained volunteers collaborated with other search and rescue organisations to participate in field operations during the acute phase of the disaster. In this disaster as well, previously trained volunteers joined the efforts of many search and rescue teams, actively participating in field operations from the first week of the disaster. These tasks encompass various activities, including providing logistical support, coordinating activities, delivering healthcare services, and mapping healthcare service providers.
Moreover, considering the scale of the disaster, various forms of support were required beyond search and rescue. One of these was technology and software engineering. This was because MEDAK needed to understand the active health status of the field and whether healthcare centres were operational to communicate this to the population. For this purpose, almost 30 volunteers both remotely and on-site collected and consolidated this information, presenting it through a simple map for the benefit of survivors.
Which organisational development areas will you focus on with the grant support provided by our Institutional Fund?
With the support of the Institutional Fund, we plan to improve MEDAK's capacity in financial sustainability and organisational management. These two areas constitute the most critical elements for ensuring MEDAK's effective presence in the field in the long term. Our objective is to secure future funding and establish a lasting donor base. Additionally, we aim to streamline the administrative aspects of the organisation, fostering a more systematic and professional structure.
To achieve progress in these two areas, we plan to seek external consultancy support and recruit personnel. This approach facilitates knowledge acquisition, allowing us to internalise this knowledge and embed it within our organisational memory. We are actively working to strengthen our relations with HERA, our sister organisation in the United States, and to foster relationships with international donors.
In collaboration with our consultant, we are enhancing our collaboration with HERA and reporting on our efforts to donors while announcing them through social media channels. Moreover, with the recent earthquakes in Türkiye, we place importance on field-oriented initiatives. Through these efforts, we aim to amplify the visibility of our work, communicate our initiatives to both potential and existing donors, and effectively raise funds.
About MEDAK
The mission of MEDAK is to support medical personnel in providing active field services in incidents such as earthquakes, fires, floods, major accidents, civil uprisings, and disappearances and accidents in mountain and wilderness conditions, and to provide these personnel with the necessary training for self-sustaining and life-saving tasks in emergencies. MEDAK also aims to ensure vulnerable groups' access to h children's access through digital means.